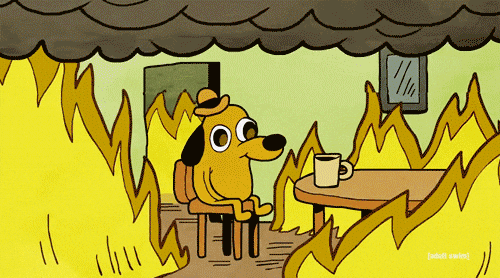 The gif that you see above is accurate to my current life situation. I just started school again and I am taking 6 classes. 2 are online, 2 are lectures, and 2 are hybrids (partially online and partially on campus).
Starting September 4th, I will be dog-sitting and house-sitting for my grandmother who lives 30 minutes north of me. Also, for the entire months of September and October, I will work every weekend at my uncle's rental bike stand. Monday through Friday, I work my regular day job.
Between everything I just mentioned above, I am also trying to attend my last few therapy session and maintain family relationships, platonic relationships, and a new romantic relationship.
If all of this sounds like a lot it's because it totally is. I will admit that I probably should not have committed to working every weekend for the next two months. However, it is what it is and we're here now.
In order to keep my life organized, I have 3 main calendars that I view. One is on my phone and that keeps me up to date on appointments and social events. I use the one on my laptop mainly for work and side jobs. The physical calendar/planner that I have is for school and a combination of everything. That sounds confusing, but it makes sense for me, I swear.
So, that's an update on where I'm at. I hope everyone's day is going well.